Best Spray Paint For Bike Frame Review [2022]
We all love our bikes but maintaining them is definitely one of the least-fun aspects of bike ownership. Over time, bikes will get beaten up, scratched, and rusty. Once this happens, it is time to strip it down and give it a fresh coat of spray paint!
If the color and finish don't matter much, the best spray paint for a bike frame is a primer + paint or all-in-one spray paint meant to be used on metal surfaces such as Rustoleum's 2x Ultracover or Glidden's Max-Flex. If the color and finish are more important, choose a spray paint with a wider color selection but be sure to prime beforehand.
Read on to learn more about the best paints for bike frames!
The 8 Best Spray Paint For Bike Frames
Here is the list of the top 10 best spray paints for your bike frame.
While some paints are better than others depending on your specific situation and application, all of these spray paints are well-reviewed and should provide good results.
1. Rust-Oleum Stops Rust Metallic Spray Paint
This spray paint is specially designed for metal surfaces like bicycle frames and features a nice metallic finish which should look nice on a bike frame, depending on your taste.
This particular product comes with an aluminum pigment which makes it suitable for all types of metals, including steel, brass, copper, zinc, etc. It also contains rust inhibitors which help prevent corrosion.
Pros
Excellent protection against rust
Easy application
No primer required
Nice metallic finish
Cons
Not recommended for plastic parts
Limited color selection
This spray paint will provide excellent protection against rust and water damage. It provides long lasting results without leaving behind any sticky residue. The spray paint is highly durable and waterproof.
Plus, tt does not require any separate priming!
2. Rust-Oleum Specialty Spray Color Shift
This is another great spray paint for your bike frame because it will provide an awesome, color-shifting effect that can help add a little excitement to your bike's look.
Be sure to test the paint color before painting your bike, however, as the color-changing properties could end up different than you expected!
Pros
Awesome color-changing effect!
Specifically designed for projects like bike frames and outdoor equipment
Extremely durable
Cons
Must apply a black basecoat before using this product
In my opinion, this is definitely the most exciting option for painting your bike frame and there are lots of fun colors to choose from along this product line!
The biggest downside is the need to apply a basecoat, but the final result will be well worth it!
3. Krylon Fusion All-In-One Spray Paint and Primer
The product name tells us that this spray paint is suitable for all kinds of surfaces, which is great for us because bike frames can include metal, plastic, and rubber parts.
This is a good option if you just want to get your bike frame painted quickly without a lot of fuss over colors, priming, or multiple applications.
Pros
Primer included
Easy application
Durable and long-lasting
Cons
This spray paint is ideal for painting bikes in a single step. It works perfectly on most surfaces. It provides excellent protection against rust and moisture. It is easy to clean and remove after drying.
It is one of the best spray paints for your bicycle. It is available in different colors and finishes. It is highly durable and resistant to scratches. It is easy to apply and gives good coverage.
4. ColorRite Tahitian Spray Paint
So this is actually a paint-match product for Honda dirt bikes and motorcycles, meaning that it is a true automotive, single-stage paint.
The benefit to using a paint like this is that it is extremely durable and doesn't require a topcoat. However, you'll have to ensure that your bike frame has been properly prepped and primed before you can use this paint.
Pros
Extremely durable
High quality pigments
Available in many colors and finishes
Cons
Longer drying time
More complicated process
Easy to mess up or make a mess
This spray paint gives a bright and shiny look to your bike frame. You can easily apply it and It is easy to remove once dried. It is available in many colors and finishes.
5. Original Bike Spirits Cleaner and Polish
Although this isn't a spray paint, this particular product can help you out if your bike frame's current paint is able to be saved. This spray cleaner and polish is specifically designed to protect your bike from corrosion and it can help stop current rust issues as well as prevent future rusting.
Pros
Removes grease and oil
Protects your bike from corrosion
Easy to apply and use
Great for cleaning and polishing
Cons
Not recommended for beginners
Doesn't replace or cover existing paint
Don't neglect your bike's upkeep – keep it clean and polished and your current paint will last a lot longer!
6. Dupli-Color Premium Acrylic Enamel Spray Paint
Dupli-Color Epae 10200 premium acrylic enamel spray paint is suitable for painting metal surfaces such as motorcycle frames, car bodies, boat hulls, and other metal objects. It provides excellent protection against corrosion.
Pros
Acrylic enamel works better on some surfaces
Designed for automotive applications
Durable and long-lasting
Cons
May take some time to dry
More difficult to apply
Requires more prep work
This spray paint is water-based and contains no solvents or volatile organic compounds. It is completely safe and eco-friendly.
Use this particular paint if you are looking for a longer-term solution that requires more initial prep work and application time.
7. Rust-Oleum Rust Reformer Spray
If your bike is starting to rust and you just want a quick and easy solution, this is it.
The Rust Reformer spray is meant to quickly cover up existing rust and provide a new protected, paintable surface to work with. This allows you to skip the annoying prepping process to treat and repair the rust on your bike and skip to painting much quicker.
Pros
Resistant to moisture and salt spray
Quick rust coverage
Works as a great basecoat for other paint options
Cons
Needs several coats
Typically needs another coat of different paint on top of it
Again, this is your 'quick fix' product for rusty bikes!
8. Rust-Oleum Automotive Enamel Spray Paint
Rust-oleum Automotive Enamel spray paint is a high-quality spray paint that is specially formulated for protecting vehicles and motorcycles.
As it is meant for automotive applications, including touch-ups, this spray paint is extremely durable once dry. This is a good choice for painting a bike frame if you are looking for serious, long-lasting results that require a bit more prep work.
Pros
High-performance
Durable
Great glossy finish
UV and weather-resistant
Cons
Not cost effective
Requires multiple coats
Messy
It is easy and simple to apply. You just need to follow the instructions carefully. It dries fast and leaves a durable finish.
Things to consider while picking the best spray paint for your bike
Consider some things before buying the right spray paint for your bike. Here are some important factors to keep in mind when choosing the best spray paint for bike frames.
1. Type of Surface
Choose a spray paint that matches the material of your bike frame. If your bike frame is painted metal, then choose a metallic spray paint. If your bike frame's material is plastic or composite, go for a clear coat of spray paint.
2. Color
Choose a color that suits your style and personality. A dark color will make your bike look classy and stylish. On the other hand, light colors will give your bike a sporty appearance.
3. Finish
A matte finish gives your bike a vintage look. However, a glossy finish will add a new dimension to your bike. Choose a finish that perfectly fits your budget and lifestyle.
4. Price
Look for a spray paint that is affordable but still offers great quality. Go for a spray paint that has a reasonable price tag.
5. Size
Make sure the size of the container is appropriate for your bike. Choose a spray paint that has enough capacity to cover the entire surface of your bike.
6. Safety
Always check the safety information provided by the manufacturer. Make sure that you are using the spray paint in a well-ventilated area, preferably outdoors.
7. Application Instructions
Read the application instructions thoroughly before using the spray paint. Follow them carefully so as to avoid mistakes.
Tools needed to spray paint a bike
Before spraying anything on your bike, make sure you have everything ready. The following tools are required to complete the job successfully.
For your safety
A pair of safety gloves
A good respirator mask
A pair of protective goggles.
For Assembling and Disassembling
Allen key.
Wrench with socket.
Crescent-shaped wrench.
A hammer (fixes everything!)
For Painting
Tape.
Sandpaper.
Towel.
Degreaser.
How to Spray Paint a bike Frame
Spray painting a bike frame is not as difficult as it seems. All you need to do is follow these steps carefully.
Step 1: Clean Your Bike Frame
Remove any dirt or grease from the surface of the frame. Use a degreasing solution to clean the area where you want to spray paint. Let the solution dry completely before moving forward.
Step 2: Prepare the Area
Prepare an area where you can work comfortably. Ensure there is no dust or debris present. Also, make sure there is adequate ventilation, preferably outdoors.
Step 3: Apply Basecoat
Apply a basecoat over the whole surface of your bike frame. This helps to cover up any rust or existing damage and provide a stronger, paintable surface.
You can also use this step to prime the surface of the frame before applying the topcoat.
Step 4: Prime the Surface
Apply a primer over the basecoat. Primer coats are used to create a smooth and even surface. It also provides protection against corrosion.
Step 5: Apply Top Coat
Once the primer is dry, apply a topcoat. Be careful while doing this because if you get some excess paint on the area where you don't want it, you may end up ruining the overall look of your bike.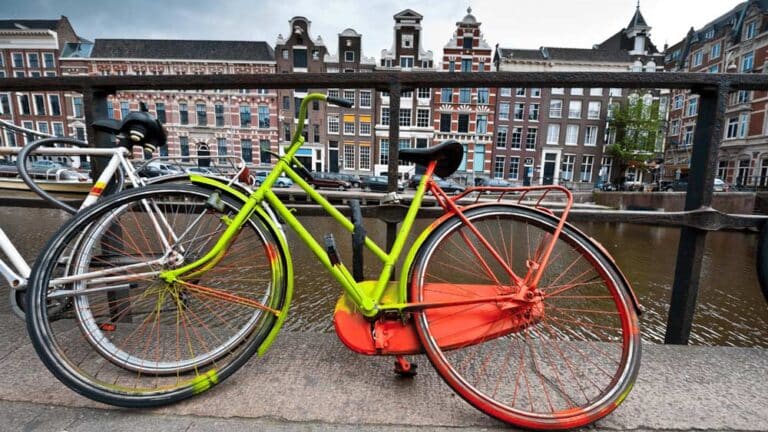 Conclusion
In this article we have reviewed the 8 best spray paint for your bike frame and discussed the things you must consider while picking a spray paint for your bike frame.
All the 8 spray paints mentioned in this article are easy to use and offer excellent results.
If you have any questions regarding this topic, feel free to ask in the comments section below. We would love to hear from you!
FAQs
Q. Will spray paint stay on a bike?
A. Yes, spray paint will remain on a bike. However, if you want to remove it, you can easily do so.
Q. Does rustoleum work on bikes?
A. Rustoleum works well on all kinds of surfaces including metal, wood, plastic, etc. So it will work on your bikes as well.
Q. Can you spray paint a bike without sanding it?
A. Yes. Sanding is optional but recommended when painting a bike. If you skip this step, then you might end up getting uneven color distribution.
Q. Is it easy to spray paint a bike?
A: Yes, it is very simple. Just follow the instructions given above and you will be able to finish the task quickly.
Q. How long does it take to spray paint a bike frame?
A: Depending on the size and type of bike, it takes anywhere between 30 minutes to two hours. The time required depends on the amount of paint you use.