Does Dollar Tree Sell Spray Paint? (Full Arts & Crafts Section List!)
If you are like me, you've found yourself reaching for a can of spray paint to finish up a project only to find that the can is nearly empty. Rather than driving all the way to a larger home improvement store, you are probably trying to see if you can buy spray paint at Dollar Tree to save yourself some time.
No, Dollar Tree does not sell spray paint at its stores. Instead, Dollar Tree sells a fairly wide selection of premium acrylic paints under the RichArt, Prang, and Crafter's Square brands as well as Crayola brand washable watercolor paints. These art supplies are available in many colors and there is a wide array of arts and crafts supplies nearby.
Read on to learn more about what sorts of paint you CAN buy at Dollar Tree
Does Dollar Tree Sell Spray Paint?
If you are like me, you can always find an excuse to run by Dollar Tree. And if I can't find a reason, my kids will find one for me in the form of requests for gum, craft supplies, or just whatever!
I personally took a trip to my local Dollar Tree to see if they sold spray paint in-store. Unfortunately, the Dollar Tree stores that I visited did not sell spray paint. As it turns out, spray paint is just a bit too expensive to squeeze a margin out at dollar store prices.
With that said, Dollar Tree does offer some other interesting paint options. If your project is a little more crafty and a little less home improvement, you might still find what you are looking for!
On this particular trip to the store, one of my daughters ended up buying some of these acrylic paints and some fun little brushes to use on one of her many projects. You have to love kids – their imaginations are amazing!
What kind of paint can you buy at Dollar Tree?
Dollar Tree has a pretty nice craft section, actually. Even though I went looking for spray paint, I was slightly impressed with what they had for sale for only a buck (well, $1.25 these days).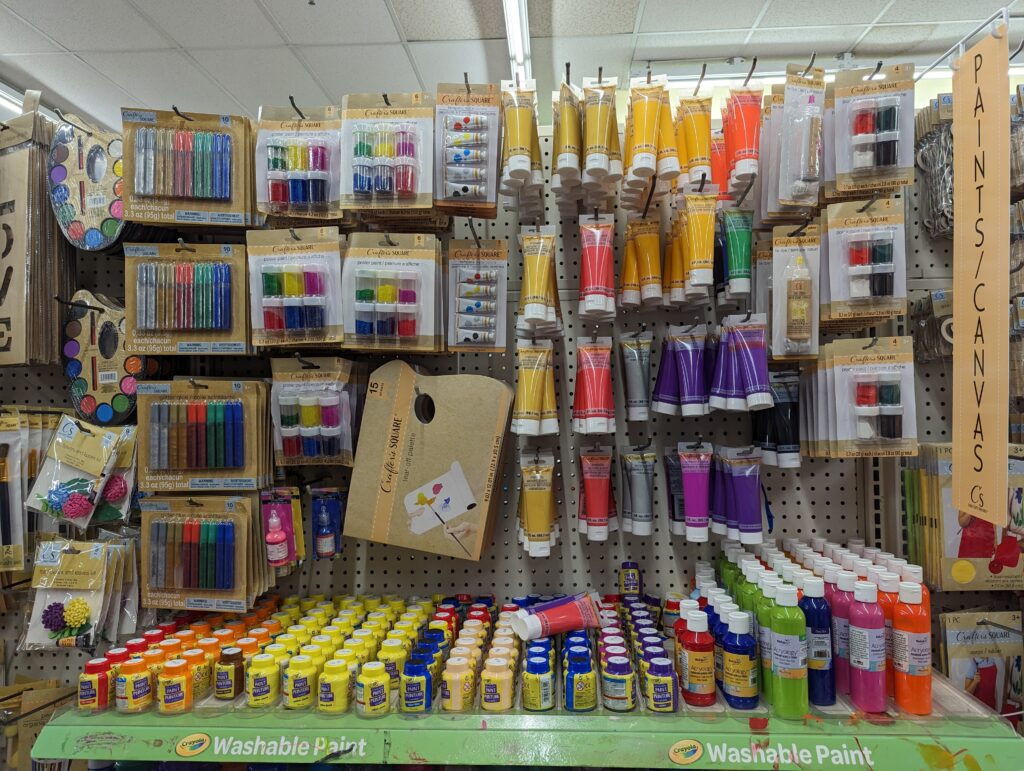 At Dollar Tree you can find the following types of craft supplies:
Bottles of acrylic paint
Bottles of watercolor paints
Squeeze tubes of metallic acrylic paint
Squeeze tubes of tempera paint
Tie-dye paint
Poster paint
Glitter glue
Tear-off palette
Wooden palettes with basic watercolor paints
Paint brushes
Painting aprons
A variety of stencils, craft accessories, and other items!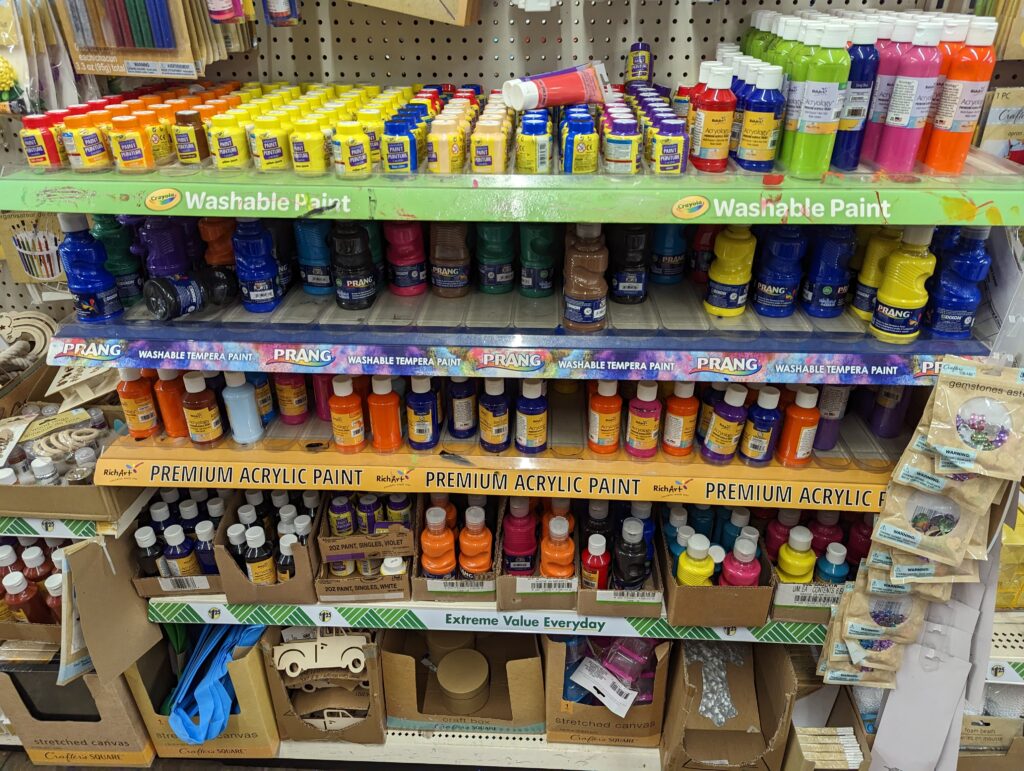 As you can see, there are lots of things to explore when it comes to Dollar Tree paints! Like most things with Dollar Tree, it is best if you don't go looking for something specific. Instead, check it out to see what you find!
Where can you find paint and supplies in Dollar Tree?
Typically, you'll find Dollar Tree's arts and crafts section in one of the interior or center aisles.
It's a pretty big section and hard to miss!
How much do the paints cost at Dollar Tree?
This is an easy one – everything costs the same thing at Dollar Tree!
While Dollar Tree used to sell everything for $1 even, these days my local Dollar Tree has everything for sale at $1.25, a hefty increase. Depending on where you live, your prices might even be a bit higher!
FAQs
Does Dollar Tree Sell Rustoleum Spray Paint?
No, you can't buy Krylon spray paint at Dollar Tree as it is not sold at these stores.
Does Dollar General Sell Krylon Spray Paint?
No, you can't buy Krylon spray paint at Dollar Tree as it is not sold at these stores.
Let Us Know How We're Doing!
Did this expertly prepared resource answer your question?
Do you have another question about home maintenance, home improvement projects, home appliance repair, or something else?
Get more information, send in questions and keep the discussion going by contacting the I'll Just Fix It Myself company customer service team at at 1-800-928-1490 or Email us at [email protected]