How To Degrease a Pan Quickly (3 Ways to Clean Burnt & Stuck-On Mess!)
The time has come once again to degrease your cooking pan. But you're about to procrastinate because you know how time-consuming and tasking the process can be. It's time for you to discover how to degrease a pan quickly.
You can quickly and easily degrease a pan with a heavy-duty degreaser as well as using DIY solutions like the boil method, a mixture of vinegar, salt, and baking soda, or soaking with a bleach-based cleansing powder. Quickly rinsing and scrubbing your pots and pans after cooking help to prevent stubborn messes to clean later!
Cooking pan degreasing is a tough task, though necessary, to keep your pan in top shape for future use. Most people also do not degrease and wash their pans thoroughly. And this can affect their food's taste the next time they use it, but no one wants to learn about degreasing or how to clean frying pan bottoms.
We understand how much of a chore degreasing a cooking pan is. But there are easy ways we have outlined to help you get done with it as quickly as possible.
Are you ready? Let's dive in.
What is Meant by a Pan Degreaser?
No matter how careful you are, you would have to deal with burnt-on foods on your cooking pan one day.
Nobody enjoys cleaning a greasy pan. It's tasking but not impossible. With the right degreaser and technique, you can degrease your pan and make it look as good as new.
So, what is a pan degreaser?
A degreaser is any product that can make grease and oil removal from a cooking pan a breeze.
You can make your degreaser at home. Pre-made degreasing products are also available online – we've even linked to a few.
Most people might want to get the already-made degreaser to save time. They also may not have the necessary ingredients to make a homemade degreaser.
If you're in the category of people who don't have the time and patience to create a homemade degreaser and want a quicker alternative, here are some awesome degreasers you should try out.
Check out some of our other articles if you're wondering how to clean magnalite pans or anodized pans specifically.
1. Goo Gone Kitchen Degreaser for Pots and Pans
With this top-rated degreaser in your kitchen, all you need to keep your pan super clean is the Scotch-Brite sponge. You can clean the dirtiest of cookware with Goo Gone Kitchen Degreaser in record time.
Check out these sponges on Amazon
Another wonderful thing about this degreaser that sets it apart is that it doesn't only degrease or clean up cooking pans. You can use it to clean up your stovetops, sinks, and pots.
Goo Gone Kitchen Degreaser is super easy to spray. You only require a minute amount of the cleaner to degrease your cookware.
2. Method Heavy Duty Cleanser
As the name implies, Method Heavy Duty Cleanser is a degreaser that makes stubborn-to-clean pan greases a breeze. This spray boasts a plant-based power green technology that is non-toxic and safe to use.
Check out this cleanser on Amazon
Method Heavy Duty Cleanser is natural. It's an excellent choice for individuals looking to go completely green.
Note – Avoid using this degreaser on a cooktop made of glass. Other surfaces you should avoid using this spray on are aluminum and marble.
You can use the Method Heavy Duty cleanser on microwave ovens, burner grates, and even range hoods.
Wait for the pan to cool down if you finish cooking before using this degreaser. You can also use it for a day or two old burnt-on messes on your cooking pan. Now spray the pan and wait for 3 minutes or more. Then clean the cooking pan. That's it.
So you have seen both degreasers. They work like a charm for simple and complex degreasing tasks.
If you don't fancy the idea of using a factory-produced degreaser and prefer a homemade degreasing solution, you can try the various methods below and still degrease a pan quickly.
3 Easy Methods to Degrease a Cooking Pan
These homemade degreasing methods will help keep your cooking pans clean and as good as new.  We'll teach you how to clean burnt-on grease from pots and pans and how to clean burnt pan bottoms. We'll also cover how to remove grease from nonstick pans.
If you want to prevent grease from accumulating on your pots and pans in the first place, try washing them right after you use them, or let them sit in hot water with dish soap for 20 minutes to loosen tougher food particles.
Here are the degreasing techniques you can try at home.
1. The Boiling Technique
This process is quite simple and straightforward. Another reason you would love this method is that you don't need any cleaning agents.
Items you need:
Heat source (stove or oven)
Water
Steel wool or abrasive scrub
This method works well for stuck-on foods that are difficult to remove from the cooking pan.
Here are the steps:
Step 1 – Turn on the heat source
You can use a stovetop or a microwave oven. Both work perfectly for to degrease a pan quickly.
Step 2 – Pour water into the pan
Pour water into the cooking pot you want to degrease.
Bear in mind that there's no need to fill up the pot with water. Just ensure it's filled enough to cover the food that's stuck to the pot or pan.
A good rule of thumb is to fill up the pan about halfway.
After you fill the pan with water, place in on the heat source and heat for 10-12 minutes.
Step 3 – Allow the heated cooking pan to cool down
You surely don't want your hands to get burnt when scrubbing the grease off the cooking pan. So after heating, cool down for 2-5 minutes.
Don't let the pan to get completely cold; the warmer the water, the better. If it cools down completely, the grease could continue to stick to the cookware's surface.
Steps 4 – Carefully scrub burnt grease from bottom of your cooking pan
Now is the time to make use of your steel wool or abrasive scrub. The pan should be cool at this point but not completely.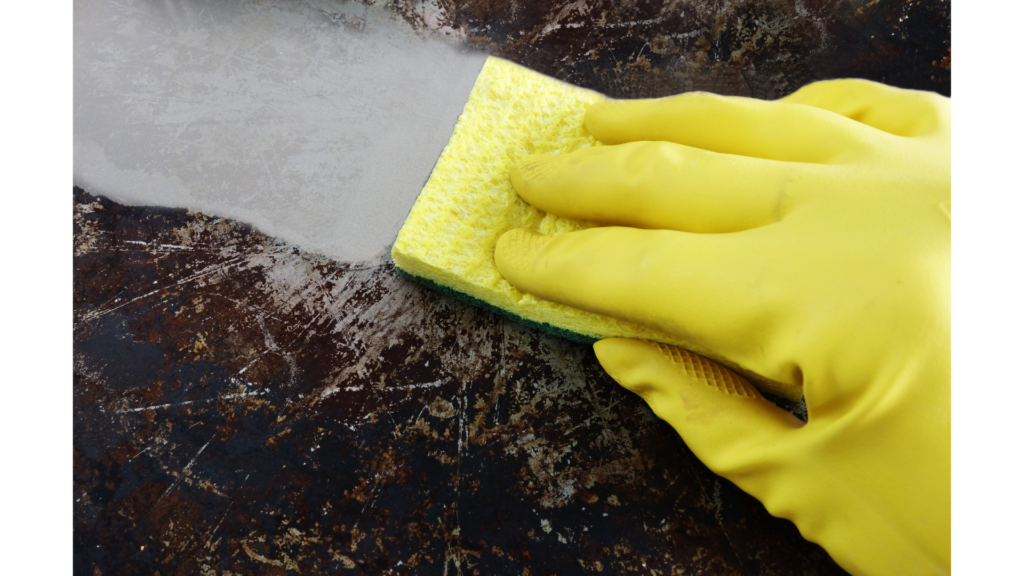 Use either of the scrubs on the surface of the cooking pan. Ensure you have gone around the entire surface before rinsing with water. Your cooking pan should be clean in a few minutes.
2. Using baking soda, salt, and vinegar to clean burnt grease from pans
Burnt-on grease is quite difficult to remove. Luckily, we've discovered how to clean greasy pans with vinegar, baking soda, and some salt. This method uses only a few products you likely have in your home already and is one of the best degreasers for pots and pans.
If you can, use sea salt instead of table salt. The former works best for this cooking pan cleaning process.
If you're wondering how to clean baked-on grease from roasting pans, look no further; this method will work for roasters without damaging them. It also works for stainless steel pans.
Here's what's required for this cooking pan degreasing technique:
Baking soda – ½ cup
Vinegar – ½ cup
Salt (preferably, sea salt)
Hot water
Sponge/steel wool
Rubber gloves
At this point, you have everything you need to degrease your pan. Now, here are the steps you should take to clean the burnt-on grease from your pan.
Step 1 – Combine the ingredients
Mix all ingredients (vinegar, baking soda, and salt). The combination should be done inside the sink. Just ensure you have the sink plugged so that the mixtures won't drain out.
First, add the vinegar, then the baking soda. Now fill the sink up with water. The cooking pan you're washing has to be submerged in the water.
Step 2 – Allow the mixture some time to rest
You will notice the mixture bubbling when you add your baking soda, sea salt, and vinegar. Don't panic. It's not going to explode.
The bubbling makes it super easy for the burnt-on food to leave the cooking pan's surface hassle-free. It will loosen the food residue's grip on your cooking pan's surface a bit.
Note – Don't forget to add some water in the sink. During this degreasing process, you will have to submerge your cooking pan in the water on the sink.
The bubbling mixture will turn into a thick paste. But when you submerge the pan in water, it will become less dense. Let the pan soak in the solution for 30 minutes to 1 hour. Heavily-greased cooking pans should be soaked for an hour or more.
Step 3 – Start the cleaning process
The pan has soaked up your mixture (vinegar, baking soda, and sea salt). At this point, you can start scrubbing away.
It would help if you had rubber gloves on. Wear them to protect your fingers and avoid getting hurt while you scrub the pan. Hot water can burn your finger tips; protect them better with a pair of rubber gloves.
Now that you have put on the rubber gloves, pour in some liquid dish soap on the pan. Scrub for about one minute or until the pan is clean.
Now soak the sponge in the solution in the sink and start cleaning the cooking pan's surface. Scrub in circular or linear motions to maximize efficiency. Try to get as much grease off the pan as you can.
If you encounter any stubborn food residue, try using the sponge's more abrasive side if it has one. You can also use steel wool if you want, but be careful as it can damage some pots and pans.
Step 4 – Rinse your cooking pans
After scrubbing the surface and you're sure no burnt-on grease remains, get your cooking pan rinsed.
The sink should be messy at this point. Try to drain out the water you first poured into the sink and clear off any debris or food particles on it.
Now rinse the pan thoroughly and place the cooking surface downward. This way, the water on the pan would dry off quickly. But if you're dealing with an aluminum sheet, don't just turn the pan's surface upside down and stop. Use a paper towel to clean and dry it properly to prevent rusting.
3. Using Hot Water and Bleach Cleaning Powder to Clean a Burnt Pan
Here's another simple degreasing method that doesn't require too many materials. It also works like a charm if done the right way.
So here are the ingredients you need.
Bleach cleaning powder
Water – (Has to be hot)
Step 1 – Pour in the bleach cleansing powder
There are various bleach cleansing powders you can give a try. These include Ajax, Comet, and Bon Ami. All of them are effective.
Next, pour in some hot water. Ensure the water reaches the boiling point. The water should cover the entire area where you have the burnt-on food.
After pouring hot water into the cooking pan, add your bleach cleansing powder. A liberal sprinkle should be enough to get the job done.
Note – If you're using vinegar in place of the bleach cleansing powder, ensure the vinegar is filled to one-third of the cooking pan.
Step 2 – Allow time to rest
The burnt-on grease won't come off immediately. The bleaching agent needs time to cut into the greases and get them off the cooking pan's surface.
You need to give the mixture 30 minutes to an hour before pouring it off the pan. The burnt-on grease would have been softened at this time.
Step 3 – Time for cleaning
The bleach cleansing powder would make the grease come off your cooking pan without much stress on your part. After emptying the solution into the sink, if you want, apply a fair amount of liquid dishwashing soap into the pan and wash with a sponge.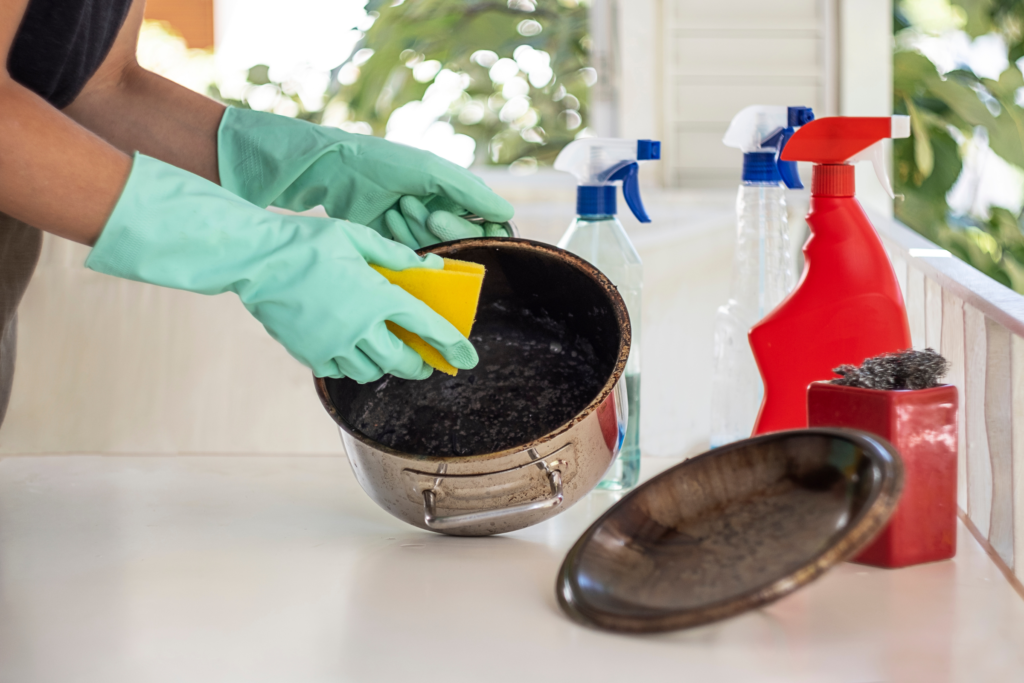 Step 4 – Rinse your cooking pan
Rinsing is essential unless you want your food to taste like bleach and liquid soap when you use it for cooking. So, rinse your pan carefully. You can also run your hand across the pan's surface to evenly spread the water and ensure water is left on the surface is gotten rid of.
Summary
It's possible to degrease a cooking pan. And as you can see, you can get it done in multiple different ways. We also encourage you to follow the steps according to how we mentioned them. Even if you don't get the desired result on your first try, do it repeatedly. In no time, you will get used to it and start degreasing your pans without stress.
We hope some of this information on how to degrease a cooking pan was useful to you. Now, put these new DIY tips into good use.
Is a burnt or scorched pan ruined?
A burnt or scorched pan or pot can be cleaned with homemade or store-bought degreases. These pans are not ruined and can be restored using an array of methods.
Can you put burnt or scorched pans in the dishwasher?
Yes, you can put some pots and pans in the dishwasher. However, some should be cleaned by hand and the dishwasher might not completely clean heavily scorched pans.
Should you use rubber gloves to degrease a pan?
Degreasing and cleaning cookware can be messy, and some chemicals used during the process can be harmful to the skin. It's best practice to use rubber gloves when cleaning or degreasing your pots and pans.
Let Us Know How We're Doing!
Did this expertly prepared resource answer your question?
Do you have another question about home maintenance, home improvement projects, home appliance repair, or something else?
Get more information, send in questions and keep the discussion going by contacting the I'll Just Fix It Myself company customer service team at at 1-800-928-1490 or Email us at [email protected]