Keeping our homes clean is integral to everyday living, and choosing the right cleaning products can help you achieve your standards. Some cleaning products are designed specifically for different areas, and this begs the question, is it safe to put Fabuloso in toilet tank?
Fabuloso isn't safe for your toilet tank because the potent chemicals in the all-purpose cleaner can damage items made of rubber and plastic. Therefore, your toilet tank's parts, like gaskets and seals, will be damaged over time.
However, it's doubtful that using a single bottle of Fabuloso in your toilet tank will cause damage.
The gist is you should not use Fabuloso in your toilet tank but stick with me as we explore this top more comprehensively.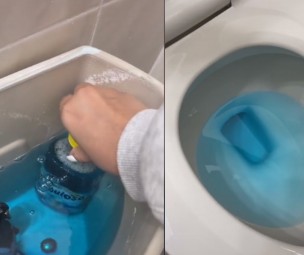 Is It Safe To Put Fabuloso In Toilet Tank? (What The Manufacturer Says)
If you have social media, especially TikTok, you may have seen the viral Fabuloso toilet hack video. It promised to let your toilet self-clean with every flush, leaving your bathroom smelling fresh and clean and shortening the time spent scrubbing the toilet.
However, the manufacturer remains conservative on the matter, urging customers to check and adhere to the product labels. The downside is that the labels do not mention anything about Fabuloso in toilet tanks.   
According to the manufacturer, Fabuloso multi-purpose cleaner cleans nearly every hard surface at home, including living rooms, floors, bathrooms, and walls. Also, clean the walls and bathrooms with Fabuloso using a sponge.
Why Shouldn't You Use Fabuloso in Toilet Tank?
It would be best if you steered clear of using  Fabuloso in your toilet tank for a number of valid reasons. These are:
1. Toilet Tank Damage
The potent chemicals in the Fabuloso all-purpose cleaner are unsafe for toilet tanks. While the harm will take a long time to manifest, the rubber and plastic-made parts, such as seals and gaskets, will eventually corrode or weaken.
Regularly exposing your toilet tank to Fabuloso leads to wear and tear and a significant reduction in life expectancy. It may take up to years to realize the damage.
2. Water Displacement
The space inside a toilet tank is primarily occupied by water. Newer toilet models dispense 1.28 gallons of water into the bowl during a single flush then the tank is refilled for the next flush. Your toilet requires sufficient water to remove all the waste from the bowl in a single flush, so the toilet tank needs to be filled to maximum capacity.
However, inserting a Fabuloso bottle inside the toilet tank takes up space, thus displacing water. This means the water is available for every flush, so you'll likely have to flush many times to have a clean toilet bowl.
3. Pet Unfriendly
If your pet drinks water from your toilet, putting Fabuloso inside the water tank is unsafe. The chemicals in Fabuloso make the water in your toilet bowl toxic to your pets, leading to severe consequences if left untreated.
Although you can use Fabuloso around your cats or dogs, you will need to make a trip to the vet should they drink it.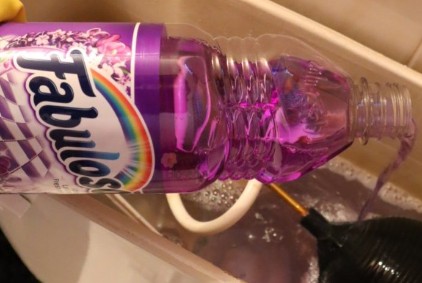 4. Costly Repairs
Toilet tank damages resulting from wear and tear due to extended exposure to Fabuloso can be costly to repair. It will likely entail buying toilet tank replacement parts. Besides costing you money, the repairs can take time to complete.
What Are The Perks of Putting Fabuloso In Toilet Tanks?
Despite the risk of damage, some people continue to insert Fabuloso inside their water tanks. Why take the risk, you ask. Below are the reasons.
a) Reduced Cleaning Time
Inserting a bottle of Fabuloso in your toilet tank means the toilet self-cleans with every flush, keeping your toilet bowl clean. It also reduces the likelihood of hard water deposits and grime buildup. Therefore, regular toilet cleaning isn't necessary.
b) Removes Odor
Fabuloso will leave your toilet and the whole bathroom smelling nice, especially if you choose a strong-scented bottle such as lavender. The scent intensifies with every flush. With this, you can forget about dealing with toilet odors or buying air fresheners.
The fragrance will remain until the Fabuloso inside the toilet tank finishes.
How To Correctly Put Fabuloso Inside The Toilet Tank
Materials
Fabuloso
Toilet brush (new)
Gloves
Goggles
Old toothbrush
Procedure
Disable the shut-off valve to stop the water flow into the toilet tank.
Clean and flush your toilet.
Remove the tank lid. Since this component is pretty fragile, handle it carefully to avoid breaking or causing cracks. Also, keep it in a safe, stable place.
Clean the toilet tank. Before cleaning the tank, take out the flapper to increase the working room.Scrub your toilet tank's bottom using a brush and a cleaning agent. You can use Fabuloso (around ¼ cup). An old toothbrush will help clean difficult-to-reach areas. Scrub the areas well to remove all the dirt buildup.
Flush the toilet– before rinsing the tank by flushing the toilet, replace the toilet flapper and turn on the shut-off valve. You will likely need to flush up to 3 times to ensure all the grime is removed.
Position The Fabuloso Bottle– drill multiple tiny holes on a small Fabuloso bottle's side near the bottom, then put the bottle inside your toilet tank. The Fabuloso will slowly drink into the tank through the tiny holes until the bottle is empty.
Put the lid back.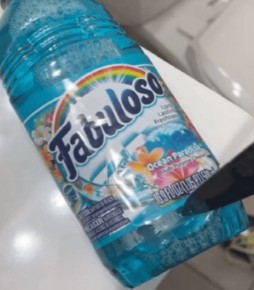 Note
Using a small Fabuloso bottle is better since a bigger one takes more space, displacing more water, thus affecting your toilet's GPF much more. You can also fill Fabuloso in a tiny empty bottle of mineral water and then put it inside the tank.
Final Remarks
Fabuloso may help shorten the time taken cleaning toilets and eradicate odors, leaving your bathroom smelling pleasant. However, as this post shows, Fabuloso destroys your toilet tank. While this product offers some impressive benefits, the downsides outweigh the benefits. Therefore, you are better off using an effective, safe cleaner made explicitly for toilets.
Also, read: