Samsung Dishwasher Touchpad Not Working? (8 Problems + Solutions)
After a long day at work, you're ready to kick back and relax. The dishwasher is loaded, and your chores are complete. But wait! The touchpad on your Samsung dishwasher isn't working. Is it time to buy a new one? Not so fast! There could be an easy fix.
Samsung dishwasher touchpads can stop working simply because the appliance isn't connected to power, it can use a reset, the door isn't closed securely, your hands are dirty, or the control lock or delay option has been turned on. More complex reasons for failure are a faulty touchpad panel or main control board.
Anxious to troubleshoot your Samsung dishwasher? Read on!
Reasons and fixes for Samsung dishwasher touchpad not working
When appliances don't work as they should, it feels us with a sense of dread knowing a big purchase may be on the horizon. Samsung dishwashers are among the top-rated appliances, but they can still have issues from time to time.
If your Samsung touchpad is not working, several factors could be responsible. The problem could be as follows: the dishwasher is not connected to power, it needs to be reset, the door isn't closed, your hands are wet or dirty, the control lock or delay option has been activated, or the touchpad panel or main control board is defective.
Below is a breakdown of things that could be responsible for the dishwasher touchpad not functioning as it should. They range in cost and difficulty level to solve. Thankfully, many problems are free, easy fixes.
| Problem | Solution | Difficulty Level | Cost |
| --- | --- | --- | --- |
| Disconnected from power | Connect to power | Easy | 0 |
| Needs a reset | Hit reset sequence | Easy | 0 |
| Door isn't securely fastened | Latch the door | Easy | 0 |
| Wet/dirty hands or surface | Dry/clean/de-grease | Easy | 0 |
| Control Lock activated | Deactivate | Easy | 0 |
| Delay option activated | Deactivate | Easy | 0 |
| Faulty touchpad panel | Repair or replace | Moderate | $100+ |
| Faulty main control board | Repair or replace | Complex | $150+ |
Common Samsung dishwasher touchpad problems, solutions, difficult level, and estimated cost
Let's go into more detail to explain how you can identify and fix each of these problems.
1. Dishwasher is not connected to the power supply
If your Samsung dishwasher touchpad doesn't respond, don't panic. The problem could be as simple as the power being disconnected either due to being unplugged or outlet or breaker issues.
Many homes today have ground-fault circuit interrupter (GFCI) outlets that reduce the risk of electrocution and fires. These outlets have a test and reset button. Sometimes the plug needs to be reset to restore power. This could be why the dishwasher isn't turning on. Over time, these outlets can also wear out. Using the test button will let you know if the outlet is defective.
Another possible dishwasher power issue is a thrown breaker. Power failures and surges can trip a breaker causing the associated plugs to lose power. A visit to the breaker box can identify if the breaker is the reason the dishwasher isn't powering on.
How to fix the lack of power issue:
If the dishwasher's display screen isn't lit, check that electricity is getting to the appliance. If it isn't, check the outlet to make sure it is working, and the dishwasher is plugged up. Still not working? Check the breaker to make sure it isn't in the off position.
2. Dishwasher needs a reset
We can all use a reset from time to time, and a dishwasher is no exception. Most Samsung models do not have an actual Reset button, but there is a way to do a hard reset.
How to do a reset fix:
First, turn off the dishwasher. Next, unplug the cord from the outlet. Let the dishwasher sit unplugged and idle for at least 5 minutes. Finally, plug the dishwasher cord back in and see if the touchpad issue has been resolved. If not, continue to troubleshoot.
3. Door isn't latched
Another possible reason for the touchpad not responding is a door that isn't latched securely. Sometimes this is due to an obstruction, like a wayward utensil or a pot that isn't loaded correctly. It can also be due to the latch being dirty or door parts being out of alignment or damaged.
How to fix the door issue:
Open the door and make sure all dishes and utensils are loaded correctly. It is best to load dishes with the dirty side facing in without blocking the jets. Keep long utensils and pot handles horizontal instead of vertical so they don't interfere with the door.
Over time the door latch can become caked with food and grime. Check around the latch to make sure this isn't the reason for the latch problem. If it is, simply clean away the gunk.
There are also parts that make the door perform properly, like hinges and gaskets. Inspect all around the door to make sure these parts are in alignment and not damaged.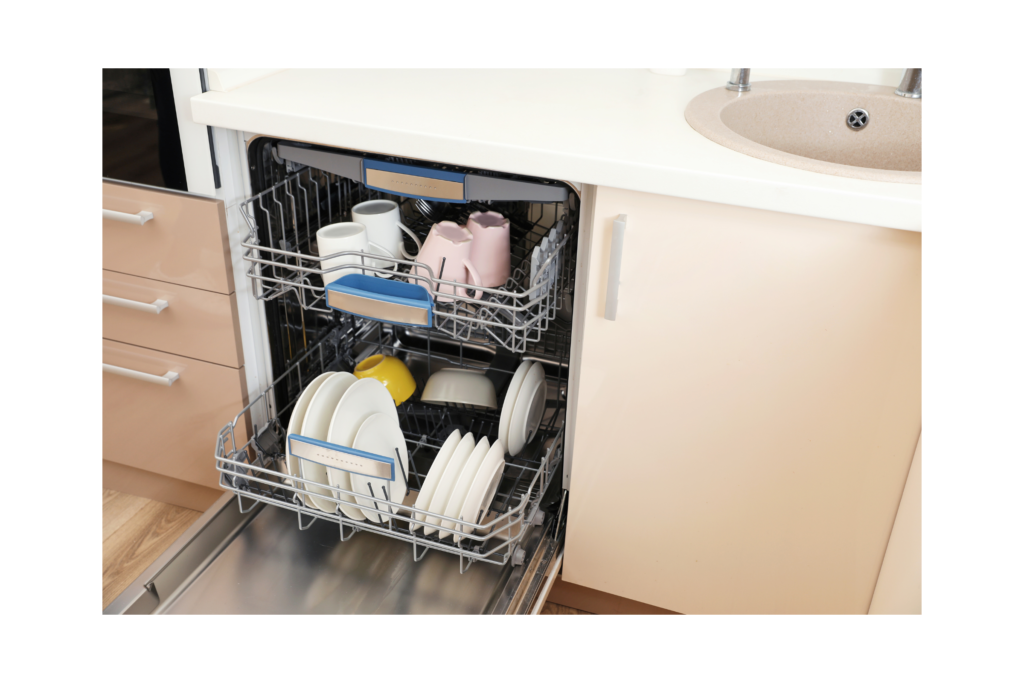 4. Your hands/dishwasher are wet or dirty
The touchpad on the Samsung dishwasher is similar to the one on mobile devices. If you touch a mobile device's screen with a wet or dirty hand, it won't respond. It's the same thing with the dishwasher. The touchpad is sensitive; anything that interferes with contact can affect responsiveness.
Water, dirt, and grease on your hands or on the surface of the touchpad can make it hard to turn on. This problem has another free and simple solution.
How to fix the wet/dirty issue:
If your hands are wet or the touchpad has water droplets on it, dry off before touching the pad. Greasy or dirty hands and surfaces require washing with a degreasing soap before touching the control panel.
5. Control lock has been activated
The control lock or child lock is a vital feature of a dishwasher. This feature prevents your kids or over-zealous pets from starting a wash cycle, changing the dishwasher's wash cycle when it's in use, or misusing the machine.
If the Samsung dishwasher won't start but has power, the control lock may have been activated, and the touchpad is disabled.
How to fix the control lock issue:
This problem has a very simple solution. Simply push the child lock button to deactivate it, and your touchpad will start responding again.
6. Delay option has been activated
Another important feature of the Samsung dishwasher is the delay option. This button comes in handy if you want to wait to start a wash but don't want to risk forgetting to turn it on. The delay option keeps the appliance on but delays the wash cycle.
If your touchpad refuses to respond even though your dishwasher is on, check to see if the delay option is active. If it is, you have found the culprit.
How to fix the delayed-start issue:
You can fix this issue by pressing and holding the Cancel button and then pressing the Start button to begin a new wash cycle.
7. Faulty touchpad panel
The streamlined touchpad covers the intricate electronics involved in making the buttons respond. Age and use can cause the panel to become damaged. If this is the case, it will often require the services of a professional.
If the above-mentioned easy fixes didn't work, the touchpad panel may be to blame.
How to fix the faulty touchpad issue:
How do you know the touchpad could be the issue? Press the buttons one after the other. If some respond and others don't, the dishwasher's touchpad is likely the culprit.
Depending on your model, you may be able to replace only the touchpad panel and see if that solves the problem. Replacements cost around $100. If you are DIY savvy, you could attempt this yourself. Otherwise, you'll have to spend more money on a service call and professional labor.
If the issue persists after replacing the touchpad, you can also replace the touchpad control panel.
8. Faulty main control board
The main control board of the dishwasher or any appliance is the soul of that appliance. In the case of the dishwasher, a defective main control board can make it impossible for the touchpad to respond when pressed. If you try the touch-each-button test and none of them work the main control board could be the problem.
The main control board is responsible for almost all the functions dishwashers perform. It also sends signals to the touchpad. So when defective or damaged, your touchpad is useless and won't operate at all.
How to fix the faulty control board Issue:
In most cases, it's better to replace the control board instead of trying to repair it. However, the main control board is expensive – $150 or more. Before you buy a new board, make 100% sure that this is the reason your Samsung touchpad isn't responding.
Replacing the control board means dealing with wires. If you are comfortable doing this, you can find many videos showing how to do this step-by-step for specific models. For safety's sake, always turn off the power and water to the appliance before starting. You'll need a screwdriver to remove the outside panels.
If you don't feel comfortable with this complex task, you can always call in the professionals. This will incur additional costs for service and labor.
Should I repair or replace my dishwasher?
If you've tried all of the free fix options, but your Samsung dishwasher still isn't working, is it best to spend money on repairs or just go ahead and replace the dishwasher?
When deciding whether to repair or replace a dishwasher, you should weigh certain factors like dishwasher age, parts and labor costs, and replacement costs.
Is the faulty dishwasher 2 years old or 10 years old? The older the dishwasher model, the harder it will be to find parts, and the cost of those parts could be high. Not to mention the labor costs involved if you aren't doing the repairs yourself. The national average labor cost is $65 per hour.
On the other hand, new Samsung dishwashers can run from $500 – $1,000+ depending on the model, finishes, and other bells and whistles. Installation and delivery costs can be added to the purchase cost, too.
Doing a thorough cost-benefit analysis will help you make an informed decision.
Samsung warranty & support
Our above troubleshooting guide should provide you with valid reasons why your Samsung dishwasher touchpad isn't working. If you have additional questions or concerns, Samsung Customer Care can help.
Speak directly with a Samsung Care Pro 8 AM – 12 AM EST, 7 days a week, or text for help 24/7.
Dial 1-800-SAMSUNG or visit their website for online chat options.
Summary of "Samsung Dishwasher Touchpad Not Working?"
When a Samsung dishwasher's touchpad stops working, it can be for a number of reasons. It is smart to troubleshoot the problem before running out to buy a new appliance. Make sure power is getting to the washer, perform a reset, check the door for obstructions, make sure your hands are dry and clean, and ensure the control lock or the delay option isn't activated.
If these factors aren't the problem, then the issue could be more complex, like a faulty touchpad panel or main control board. Do a cost-benefit analysis to decide whether to repair or replace the dishwasher when serious problems arise.
Posts related to Samsung appliances:
Samsung dishwasher keeps tripping breaker
FAQS
Why isn't my Samsung dishwasher touchpad working?
Your dishwasher touchpad can stop working for a number of reasons. Common reasons are no power to the appliance, a door obstruction, dirty or wet fingers or touchpad surface, or the control lock or delay option has been inadvertently activated. More serious reasons are a faulty touchpad panel or main control board.
Should I repair my dishwasher or buy a new one?
Weighing the dishwasher's age and the costs of parts and service against the replacement cost of a new washer is helpful in determining which way to go. Some repairs are relatively inexpensive, especially when you do them yourself.
Does a Samsung dishwasher have a reset button?
Most Samsung models do not have an actual Reset button. However, you can perform a hard reset by unplugging the appliance for 5 minutes and then plugging it back in.