Where Are Bosch Dishwashers Made? (Who Makes Them)
In our modern age of globalization, it's hard to know where the products in your home truly come from. If you've found yourself asking the question, "Where are Bosch dishwashers made?" You've come to the right place. Read on below to learn more about Bosch, its company origins, and some pertinent information about the brand to help inform your purchase.
Bosch was established in 1886, but it manufactured its first dishwasher in 1964. The company is still in the business, producing dishwashers of varied grades, sizes, and price points.
So, where exactly are these dishwashers manufactured? If you are interested in finding out, continue reading for more details.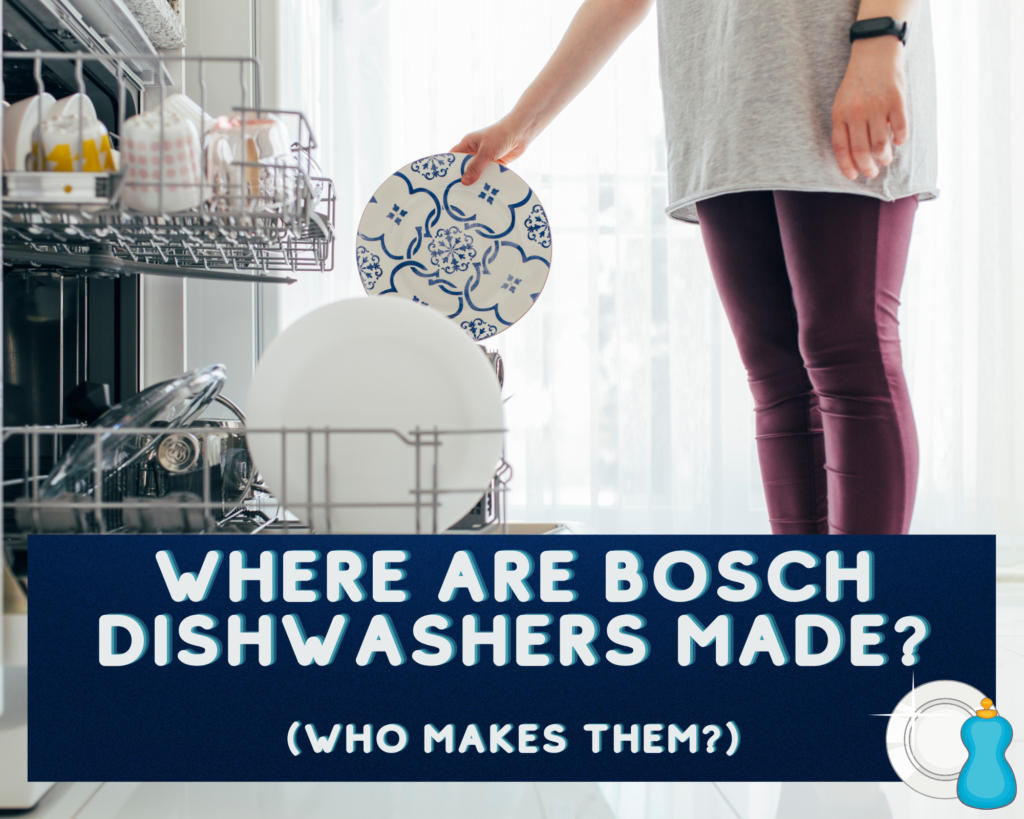 Where Are Bosch Dishwashers Made and Manufactured?
So where is Bosch manufactured and assembled?
A good number of Bosch dishwashers are manufactured in the United States of America. Bosch also makes some of their high-end dishwashers in Germany. The company has dishwasher factories located in New Bern, North Carolina, and Germany.
Additionally, it is worth noting that Bosch has the largest dishwasher factory in the world. This monstrous manufacturing plant fills a 245,000-square-foot facility in North Carolina.
Bosch Manufacturing Location by Model
Ascenta & 100 Series
The Ascenta and 100 series dishwashers that Bosch produces are made at their plant in New Bern, North Carolina.
300 & 500 Series
The Bosch 300 & 500 series products, with the exception of the 18″ dishwasher, are all made at their factory in North Carolina.
800, 800 Premium, and Benchmark Series
All Series 8 Bosch dishwashers are manufactured in Germany. This also includes the Benchmark series.
Who Makes Bosch Dishwashers?
Robert Bosch, of the Bosch Group GmbH, is the founder of Bosch dishwashers. The Bosch Group is a multinational engineering and technology company headquartered in Gerlingen, Germany. Robert Bosch founded the company in 1886 in Stuttgart, and today, it is one of the most reputable dishwasher manufacturing companies in the world.
However, at its inception, the Bosch Group was a 50:50 joint venture between Bosch and Siemens. Profits generated from the sales of appliances were divided between both companies.
But on January 5, 2015, Bosch Group acquired Siemens' 50 percent shares of the company. The deal was worth $3.85 billion.
So, as of the time of writing, Bosch Group is the sole owner of the business. And the company has factories in the United States and Germany that produce dishwashers as well as other household tools and appliances.
Are Bosch Dishwashers Good?
Yes, Bosch dishwashers are good. They're far better than others in quality, durability, size, efficiency, etc. Let's discuss some of the things that set the Bosch dishwashers apart.
1: Quality:
Bosch dishwashers' quality is much better than many brands that have comparable price points. They are even better than most pricier dishwashers on the market.
Bosch has the largest dishwasher-making factory in the world. So, there is no doubt they have all the equipment, technology, experience, and workforce needed to build quality dishwashers.
In terms of quality, Bosch dishwashers rank high when you compare them to many brands priced in a similar range. The company has been manufacturing dishwashers for decades. So, they have built a solid reputation over the years.
The evidence of Bosch's excellence is the increase in demand for its products in the marketplace. It's obvious that users adore the brand's dishwashers. If these dishwashers weren't good quality, people wouldn't be showing such high interest in them.
2: Reliability:
A reliable dishwasher is what every user wants in exchange for their hard-earned money. But the thing is, not all dishwashers are reliable. Some brands are not even consistent with the quality of their dishwashers.
With Bosch, you have a reliable and trustworthy company. Bosch has been in the dishwasher-making business for many decades.
Also, don't forget that Bosch's dishwasher factories are in the United States and Germany, two countries where the demand for high-quality is a major focus for consumers and the government.
With this in mind, we can confidently say that Bosch is a reliable dishwasher brand.
3: Durability:
Durability is another key factor to consider when choosing dishwashers. People want to spend their hard-earned money on a dishwasher that will stick around for many years.
Bosch dishwashers have gained wide recognition for their exceptional durability. Their dishwashers have an average lifespan of around ten years.
In addition, your Bosch dishwasher can last longer with proper usage, cleaning, and maintenance.
4: Work well with hard and soft water:
Soft water is the best for dishwashers. It makes cleaning dishes a breeze and doesn't leave stains or deposits on your dishwasher.
But the good thing is that Bosch high-end dishwashers aren't reliant on the type of water you have in your area. These dishwashers come with built-in water softeners.
The Bosch 300 Series, Bosch Ascenta, and Bosch 800 series are some of the models with water softeners.
The ability to soften water optimizes the cleaning capacity of the water. It eliminates the streaking and clouding of glasses that hard water causes. Furthermore, it prevents deposits and stains that hard water creates.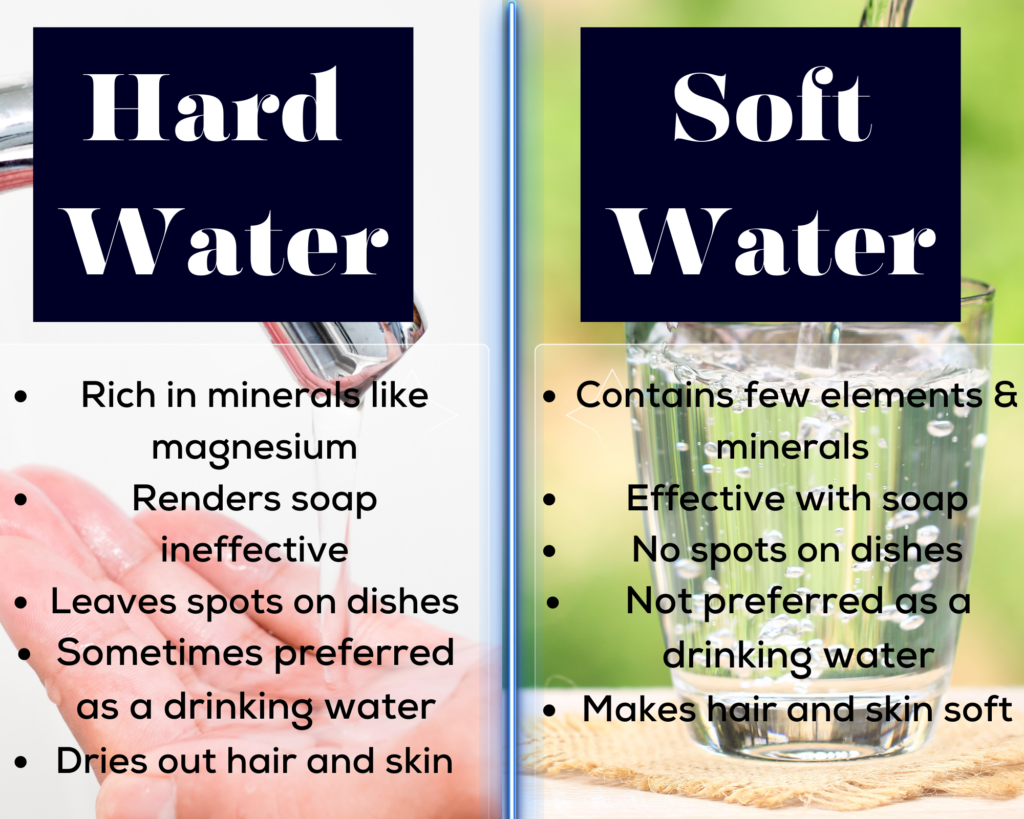 5: Operate Quietly:
Most dishwashers produce so much noise when in use that you cannot use them during a specific time of the day. For example, it's unfeasible to use many models of dishwashers when people are asleep or resting.
Bosch dishwashers are not in this category. They operate quietly, and they'll wash your plates properly.
A Handy Tip: Bosch dishwashers run at 38 to 44 dBA (Decibels), meaning they are practically noiseless.
6: Quick washing and drying:
Bosch dishwashers wash faster and dry your dishes more quickly. The Bosh Benchmark, for example, washes its contents in 30 minutes.
All Bosch dishwashers also utilize a condensation system for drying dishes called PureDry. This unique drying system helps to keep the dishes super clean and dry.
One unique thing about Bosch dishwashers' PureDry system is its energy efficiency. Its closed drying system is another feature that shows Bosch's innovativeness.
This closed drying system means the dishwasher doesn't collect air from the outside or utilize a heating element. Instead, it ensures water is removed from the dishes as they cool. And what's more, the absence of heating elements means your plastic plates on the lower rack are safe.
So, if you want a dishwasher that washes and dries your dishes faster, the Bosch dishwasher is a wise choice.
7: Solid construction:
Bosch dishwashers' build quality shows that they are built to last. This explains why Bosh dishwashers have a longer lifespan than most dishwashers at comparable price points.
So, if you want a well-built dishwasher, Bosh dishwashers are a wise choice.
8: Versatility:
Bosch dishwashers are built to suit any lifestyle. These dishwashers also boast roomy and versatile racks, allowing you to wash different dishes easily.
Additionally, Bosch dishwashers look appealing, and they fit into any kitchen design. Their sleek design makes them a great addition to any contemporary kitchen.
However, Bosch dishwashers are expensive. There's no doubt about that. But these machines come packed with high-end features that make washing dishes fun, easy, and quick.
So, are Bosch dishwashers worth the value for money? Yes, they are!
Is Bosch Dishwasher Better Than Samsung?
The Bosch dishwasher is better than Samsung in several areas. However, both companies offer dishwashers that consistently compete as the highest-selling appliances in the United States market.
However, Bosch and Samsung dishwashers differ in several areas. For example, Bosch offers more variation in exterior designs than Samsung. Additionally, Bosch offers a few luxury brands that are priced much higher than any of Samsung's models. Though the two companies' economy models are essentially at the same price point. While Bosch has been in the dishwasher game for much longer, Samsung also builds a very quality product. You really can't go wrong with either brand.
Samsung dishwashers are newcomers to the appliance market. But the company's capacity to incorporate advanced technology in its appliances is never in doubt.
Now, let's look at some areas where Bosch's superiority over Samsung is most evident. But before diving into that, keep in mind that both companies make quiet dishwashers.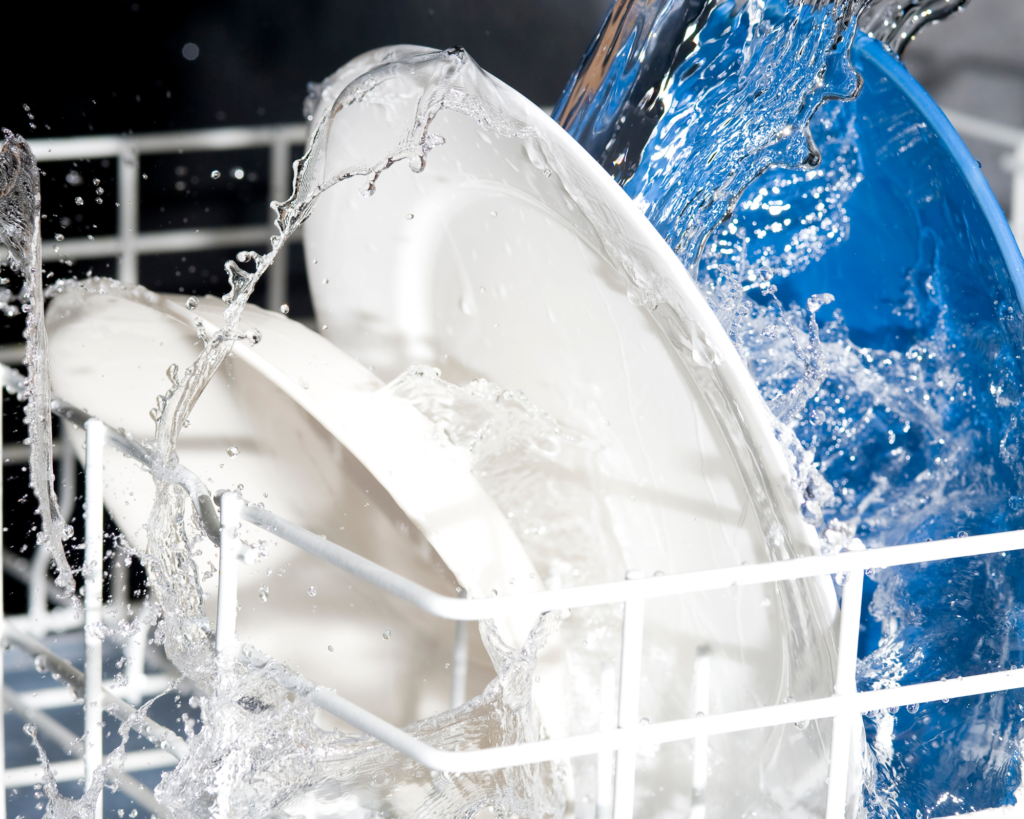 1: Design:
Bosch and Samsung produce dishwashers with sleek designs. But while Bosch dishwasher models number over 100, Samsung only produces a little over 18 dishwashers.
Bosch has a dishwasher for every kitchen and scenario. So, whether your kitchen is compact, with standard floors, or you are seeking a dishwasher that will match your countertop height, Bosch has a dishwasher for you.
2: Drying technique:
Bosch dishwashers are ahead of Samsung when it comes to drying techniques. Bosch utilizes the condensation drying method, considered the most advanced on the market to date. Additionally, the condensation drying method is energy efficient, allowing you to lower your energy bill.
On the other hand, Samsung also uses condensation drying. But unfortunately, their heating technology isn't as advanced as Bosch's.
3: Water softener:
Bosch dishwashers are designed with built-in water softeners, making them a wise choice for people in areas with hard water. The water softener eliminates calcium residue from your plates, including stains on the dishwasher.
Unfortunately, Samsung dishwashers don't have a built-in water softener at this time.
Is Bosch Dishwasher Better Than GE?
The Bosch dishwasher is better than the GE dishwasher in several aspects. However, GE is cheaper. With Bosch dishwashers, you have a sturdier machine that can reach the ten-year mark with little or no repair.
Bosch dishwashers are also quieter than GE dishwashers. Both companies manufacture water- and energy-efficient dishwashers, but Bosch dishwashers boast more cutting-edge cleaning and drying technologies and more variety in cycles, making them more effective.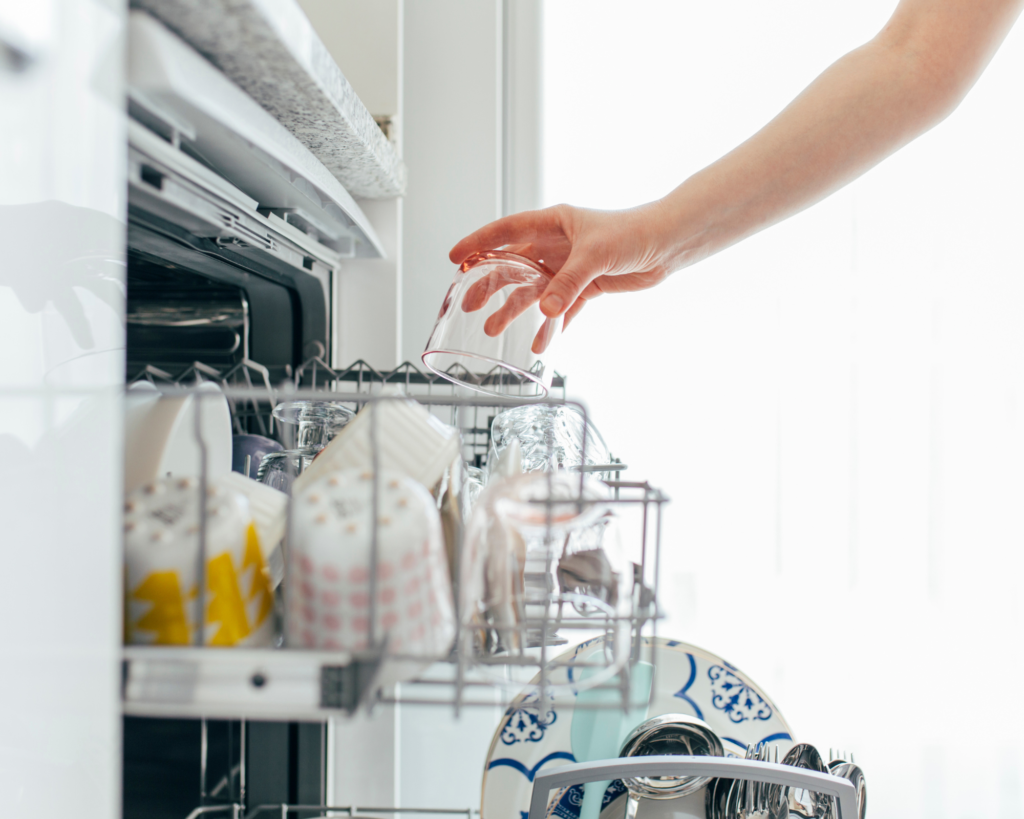 Why Are Bosch Dishwashers So Hard To Get?
Bosch dishwashers are so hard to get these days for several reasons, such as material shortage and high demand for electrical appliances.
The material shortage is a global issue, affecting the whole appliance manufacturing industry, not only Bosch. With the available materials, Bosch has the workforce to meet the increasing demand.
Conclusion
Here is the answer to the question, "Where are Bosch dishwashers made." Bosch dishwashers are produced in the United States of America and Germany. That's where the company's dishwasher factories are located.
Bosch makes good dishwashers, something they have been doing for over five decades. Their dishwashers may be pricey, but they are worth the value for money. Bosch dishwashers are better than Samsung's and GE's in several areas.
However, note that the Bosch produces a wide range of dishwashers. So, choose the model that suits your budget and needs.
Where are Bosch 800 series dishwashers made?
All of Bosch's series 8 dishwashers are made and manufactured in Germany.
Where are Bosch 300 series dishwashers made?
Bosh's 300 series dishwashers are made at their manufacturing facility in North Carolina, with the exception of the 18-inch model.
Are Bosch dishwashers made in China?
No, Bosch manufactures all of their North American and European products in either Germany or the United States of America. However, for the Indian Market, Bosch does utilize some factories in China.