Can You Shower Without A Shower Curtain? (Answered!)
Shower curtains enhance a bathroom's appearance, offers privacy, and block water from splashing to the outside floors. But, can you shower without a shower curtain?
You can shower without a shower curtain but be ready to mop the water that splashes around the bathroom floor. However, to avoid this inconvenience, you can invest in alternatives to shower curtains.
Alternatives to Shower Curtains:
Glassdoor
Doorless shower
Sliding panel door
Wood shower screens
Shimmering screen
Hanging plants
The options above will not only prevent shower water from splashing to the bathroom floor and protect your health but will also enhance the aesthetics of your shower.
Keep reading as we dive into the benefits of these shower curtain alternatives above.
6 Best Alternatives To Shower Curtains Explained.
Many homeowners only know of the vinyl curtains as the only option to contain water in the shower. However, there are several options that not only prevent water from splashing to the outside but also add elegance to your bathroom.
If you are still doing the traditional shower curtains, come with us to the next section for long-lasting and luxurious alternatives:
1. Glass Doors
Glass shower doors provide a sophisticated look and a modern shower curtain alternative. Since glass is clear, it allows light to pass through, making your bathroom appear large and bright, unlike curtains which block light from coming into the bathroom.
Also, shower doors are easy to clean and maintain, and they do not need replacement unless broken.
What's more, even you have small children, exercise extra caution to ensure that the glass doors are not broken or cracked to avoid cut accidents.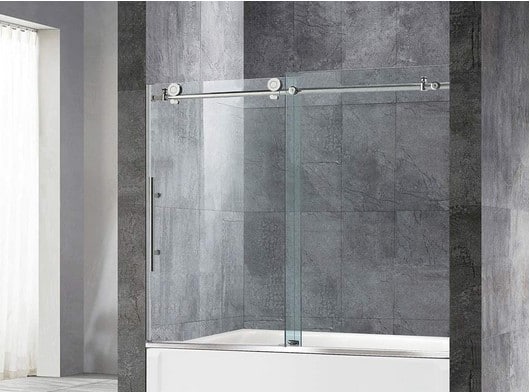 Pros
Easy to clean and maintain
It does not get outdated with time
Allows light, which adds to the visual space of the bathroom
Cons
Expensive to install and replace
Attracts smudges easily hence require regular maintenance
Offers no privacy
2. Door Less Shower
A doorless bathroom is an alternative for people who do not want shower curtains and doors altogether. Doorless showers are trendy and spacious but only for people with a large bathroom space in high-end homes.
A doorless shower works well with rainfall showerheads and gives you a spa experience right in your house.
What's more, some doorless showers are walk INS, while others have a step on the entrance to prevent water from the shower from splashing to the outside. For the walk-in showers, be ready to clean water peddles on the bathroom floor after every shower.
Pros
Requires less cleaning and maintenance
Suitable for the elderly, children, and people with mobility issues because they do not have a step at the entrance
Without a door, these bathrooms look and feel more open, with more space
Custom made to fit your style and space
Cons
Require more floor space hence they are not for everyone
They sometimes feel cold and uncomfortable because there is no curtain or door to trap the steam inside
No privacy
It is expensive to install because they are custom made, and it is a DIY project.
3. Sliding Panel Door
Sliding panel shower doors are elegant shower curtain replacements for small showers.
They save on space because the panel does not open or close to the outside or inside. They will give your bathroom an elegant look and, most importantly, contain all the water.
Pros
Efficient for small bathrooms spaces
Provide a seamless and aesthetic appearance
Functional handles, where you can hang towels or washcloths
Cons
Hence, limited entry is not suitable for the elderly, individuals with mobility issues, or parents who want to bathe their kids.
Requires regular and routine maintenance. Otherwise, the metal tracks will rust.
Difficult to clean
4. Wood Shower Screens
Some shower curtain alternatives require a lot of creativity, and a wood screen is one of them. It is a unique door made of repurposed wood with frames and panels for the details.
The panels on the doors allow light in, and it's an excellent alternative for people who want a unique door. However, utmost care and maintenance are required to protect the door from water damage.
Pros
Unique design
Affordable because the raw materials are repurposed
Allows natural light in
Cons
The wood requires regular treatment and maintenance
5. Hanging Plants
Yes, you can hang plants on your shower door in place of shower curtains. However, to make this move, you must be in great support of the green movement. The plants will add life, color, and more oxygen to your bathroom.
For efficiency, invest in macramé hangers and use plants in high humidity areas. Your shower experiences will be the best in the company of your natural friends.
Pros
Purifies the air
Boosts your energy
Goof for mental health
Reduces dampness in the bathroom because they breathe in all the moisture
Cons
Caring for indoor plants can be challenging
Requires special care arrangements when you are away for longer periods.
6. Shower Screen
Did you know that you do not have to deal with a door that pushes to the inside or outside or curtains that must be pushed from side to side when entering your bathroom? Yes, you can get it with shower screens.
Shower screens roll up when not in use and down when you are in the shower offering you maximum privacy. You can use a frosted screen to increase privacy that creates a shimmering effect.
Pros
Easy to clean
Save on space
They give your bathroom an elegant look
Cons
They can easily shatter if they are not installed properly
Expensive to install
Frequently Asked Questions
1. Are Shower Curtains Important?
Shower curtains are important owing to their functions. They improve the appearance of the bathroom, block water splash, come in different colors and designs that help decorate the bathroom and offer you privacy while inside the shower.
2. What Can I Use If I Don't Have A Shower Curtain?
If you do not have a shower curtain or do not want to use the one you have for whatever reason, you can use several shower curtain alternatives. This includes glass doors, doorless showers, hanging plants, shower screens, or sliding doors.
3. Why Do Mold And Mildew Grow On Shower Curtains?
As you get clean on the shower, water, soap, and dirt accumulate on the shower curtain, and if not well cleaned, it results in the growth of mold and bacteria. Without proper care and maintenance, shower curtains can make you sick. Therefore, if you use shower curtains, ensure that they are cleaned and replaced regularly.
4. Can I Use A Sheet As A Shower Curtain?
Yes, sheets can be used in place of shower curtains. Coordinate your master bedroom décor and the sheet, now shower curtain for an elegant look. The sheet will contain water and offer your privacy, but it must be removed after the shower because it is not waterproof.
In Conclusion, Can You Shower Without A Shower Curtain?
You can pull through a shower without a shower curtain but be ready to deal with the water peddles outside your bathroom.
If you no longer want to use PVC shower curtains because of the health danger or because their style is not appealing to you, you can shift to other alternatives like glass doors, door shower plans, or sliding doors, to mention a few, as discussed above.
The shower curtain alternative you choose depends on your needs, décor preferences, and bathroom size.
Also Read:
Let Us Know How We're Doing!
Did this expertly prepared resource answer your question?
Do you have another question about home maintenance, home improvement projects, home appliance repair, or something else?
Get more information, send in questions and keep the discussion going by contacting the I'll Just Fix It Myself company customer service team at at 1-800-928-1490 or Email us at [email protected]