What to Put On Ceiling Above Shower: 9 Materials Explained!
It's bathroom protocol that all shower ceilings should be 80-inch high. That, however, doesn't 100% protect the ceiling from water splashes, and for that reason, you should know what to put on ceiling above shower.
Overall, you can put any durable and water-resistant material on the ceiling above the shower, preferably an appealing option. That includes metal, tiles, glass, panels, PVC, drywall, acrylic, fiberglass, or gypsum. Alternatively, you can paint the ceiling.
Remember, the shower ceiling renovation process is involving and tiresome, and so you should go for the most durable and cost-effective option.
Since there are so many material options, this guide will help you choose one, depending on your shower, budget, and general style.
Let's discuss the materials next.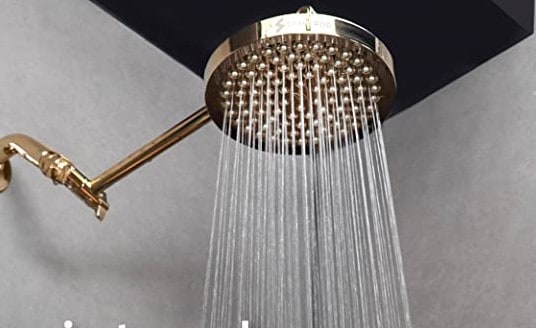 Best Shower Ceiling Materials
Below are some shower ceiling materials for your consideration:
1. Metal
Metal is one of the best shower ceiling materials that never goes out of fashion. The material is generally easy to clean and durable.
Moreover, metal is quick to install, inexpensive, and when a specific area is damaged, you can remove it and replace it without necessarily replacing the entire ceiling.
The best part is that metal comes in many appealing options, including galvanized iron, copper, chrome, aluminum, brass, and tin.
But still, you can make your metal ceiling more appealing by polishing it to harmonize it with your shower space.
2. Tiles
Tiles are a popular ceiling option for many homeowners known for their aesthetic appeal, affordability, and ease of installation.
Like metal, tiles offer you a variety of options to choose from. Among them are ceramic, marble, porcelain, and granite.
Remember, though tiles have water-resistant properties, they are usually not 100% waterproof. Water can get in through their cracks. So, that's their biggest downside.
The good news is that you can seal the joints of the tiles to improve their waterproofness. And when installing a shower ceiling tile, make sure to use a water-resistant base when attaching the tiles.
In that case, you can opt for polyethylene like KERDI (View on Amazon), which prevents water seepage via tile cracks. Alternatively, you can go for plaster as your base material.
Those two materials will not only protect your ceiling from water-related damages but will also discourage mold growth and tile sagging.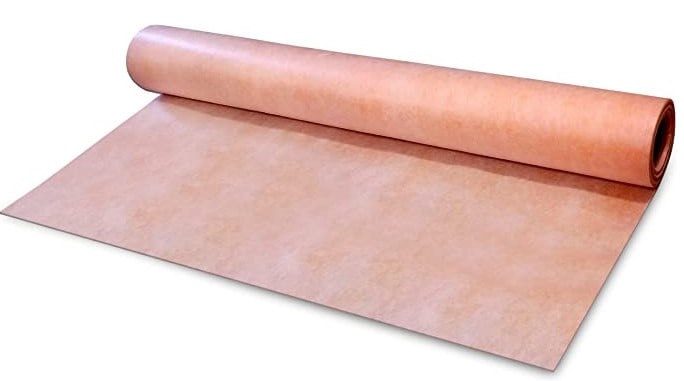 3. Glass
If you are looking for a more sophisticated yet stylish and modern bathroom ceiling, you cannot go wrong with the glass ceiling.
Glass makes your bathroom look spacious and is ideal if it lacks windows. And even though glass is expensive, it gives your shower ceiling an elegant appeal.
But still, if you cannot afford pure glass, you can go for false glass. Overall, a false glass ceiling gives your shower ceiling a shiny attractive look just like pure glass.
4. Panels
Ceiling panels have come a long way. They were among the best ceiling covers in ancient times, and it seems the trend is getting revived in modern bathrooms.
Panels hide the ugliness of your shower ceiling and give it a timeless look.
In the market today, you are likely to choose between PVC panels and aluminum composite panels. Let's discuss the two:
· Aluminum Composite Panels
This panel consists of two aluminum sheets sandwiched in thermoplastic polyethylene cores
Aluminum composite is smooth, lightweight, and robust and is generally suitable for bathrooms with high condensation.
Overall, you have a wide variety of options to choose from, such as metal texture, marble, or plain aluminum composite.
· PVC Panels
If you live in a humid area, you will likely witness condensation in your bathroom.
The best solution to this problem is installing PVC panels on your shower ceiling. PVC panels usually have waterproof properties, which create a moisture barrier that keeps your shower ceiling dry. As a result, they effectively reduce mold build-up.
In terms of weight, PVC panels are lightweight, and the installation process is easy therefore saving you on labor costs.
So, if you are looking for a cheaper ceiling option, you should consider the PVC panels.
5. Fiberglass
To clear the air first, fiberglass by itself is not waterproof. However, you can apply resin to make it 100% waterproof.
Most fiberglass manufacturers sell cured fiberglass that is usually waterproof to give you an easier task.
Fiberglass is inexpensive but promises to provide you with an excellent shower ceiling. Not only can you use fiberglass on your ceiling, but you can also use it on your shower standing wall.
This will give you a uniform look for both your ceiling and wall. Due to its waterproofness, you can rest assured of long-term services as it's not prone to water damage.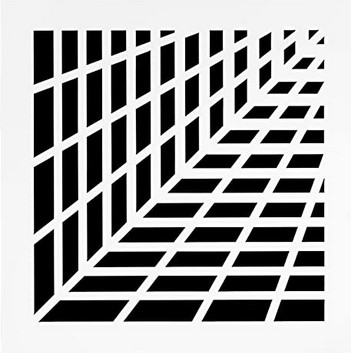 6. Gypsum
Gypsum, also known as Plaster of Paris, gives you a solution to mold growth. Not only is it an inexpensive ceiling, but it is also lightweight and water-resistant.
Thanks to its heat insulation properties, it is usually ideal for warmer regions.
7. Drywall (Green Board) Shower Ceiling
Drywall also enjoys moisture-resistant properties, making it a fantastic option for your shower ceiling. Thus, you can count on it to protect your roof from moisture damage.
Today, there are many drywall textures to choose from, such as popcorn, splatter, and orange peel. These textures are ideal for hiding your shower ceiling imperfection and reducing noise.
You must, however, fit the drywall properly to ensure it forms a good seal against moisture. In that case, consider using any water-resistant paint.
8. Acrylic
Acrylic is a resin-derived fiber. The material is popular among homeowners, given that it comes in various designs and shades.
Furthermore, acrylic is available in different thicknesses and sizes. Some acrylic sheets are transparent, solid while others have patterns to blend well with your shower design.
Acrylic is generally seamless to remove due to its natural lightweight.
9. Paint
If you want to renovate your bathroom and give your ceiling an attractive appeal, you can paint it.
Painting is hustle-free and budget-friendly as you can do the painting yourself.
But, if you decide to paint your bathroom ceiling, you should be aware of mold. That is because moisture settles on the roof, creating a suitable environment for mold growth.
However, having enough ventilation like windows to increase fresh air circulation discourages mold build-up. But since painting is an easy job, you can be repainting the shower ceiling yearly.
Are you wondering what paint to use on ceiling above shower?
Overall, there are two types of paints that are good for the ceiling:
· Flat Paint
Flat paint helps hide any imperfection in your shower ceiling, making it look playful. However, flat paint attracts mold growth and is not moisture resistant.
· Semi-Gloss Paint
If you are looking for paint that will give your shower ceiling a bright and admirable look, you should settle for semi-gloss paint.
It has water-resistant properties that will resist mold growth. The only issue is that semi-gloss paints are not good at hiding imperfections. Instead of covering them, they expose the defects.
An option like the Diamond Brite Paint 21050 works all-around your house. Not only does it have a glossy finish, but it also allows you to clean the coat with a non-abrasive cleaner.  
Factors to Consider When Buying Ceiling Material for Your Shower
Here are essential considerations for picking a material for your shower:
a) Material Durability
When buying a ceiling material, the first factor to consider is its durability and strength.
I can bet that you don't wish to be changing the ceiling material regularly as the whole process is tiresome and costly.
So, consider materials like metal, composite panels, and gypsum as they are durable. Tiles can also be durable if you properly take care of them.
While durable materials cost more than others, they always prove cost-effective in the long run as they stand the test of time.
b) Material Design
If you are like me, the first thing to consider when renovating your shower ceiling is the aesthetic appeal of the material you choose.
Go for the glowing and super attractive shower ceiling materials that bring life to your shower area.
The design should also coordinate with the scheme and layout and blend well with your shower accessories like liners and curtains.
c) Cost
Before changing your shower ceiling, the critical factor is having a budget set aside. Not always are expensive ceiling materials high quality.
So, you can still get a cheaper shower ceiling material that will last you longer. Try as much as you can to stick to your budget.
d) Ease of Installation
Shower ceiling materials come in many different types, and each type differs in installation skill and expertise. However, you should choose a material that you can install on your own or one that your local professionals are familiar with.
People Also Ask
1. What Should I Put On My Shower Ceiling?
There are various materials that you can choose for your shower ceiling. They include glass, acrylic, metal, tile, gypsum, drywall, panels, to name a few.
However, the shower ceiling experiences condensation, so you should get waterproof ceiling material.
2. What Material Is Best for A Bathroom Ceiling?
You should choose a ceiling material that is waterproof and durable. Remember that your bathroom ceiling will be witnessing water splashes that can encourage mold build-up if the material is not waterproof.
Some of the best waterproof materials include composite panels, glass, metal, among others.
3. Should You Tile Ceiling Above Shower?
If you are looking forward to installing a steam shower or if your bathroom experiences humidness and water splashes, you should consider a tile ceiling for your shower ceiling.
4. Do You Need to Waterproof Bathroom Ceiling?
If your shower ceiling is prone to mold and mildew build-up, then you should waterproof your bathroom.
Some paints usually encourage mold build-up due to moisture, and if this is your case, you should ensure you waterproof your shower ceiling with a waterproof membrane.
What to Put On Ceiling Above Shower? Closing Remarks!
Above are the nine best ceiling materials that you should consider. Remember to choose a material with moisture-resistance properties and one that resists mold.
Moreover, you should ensure that you invest in a durable option that will last you longer while giving your bathroom a timelessly elegant vibe.
Also Read: